What a good time we have in Valencia, how lucky we are! And did you know that we are among the happiest cities in the world? It is not surprising, and it is that we live at a calm pace with a spectacular climate and a great cultural offer that make our days even richer.
And doesn't it happen to you that something when you share it always turns out better?
We believe so and that is why we have created pairs of plans, which you cannot not combine, for this Easter and for whenever you want. Because together they are more.
Let's go!
1. Excursion to an idyllic setting + paella in Palmar

🌾

🥘
Experience the feeling of leaving everything and losing yourself in the rice fields, turquoise beaches and lakes of the Albufera Natural Park. Take a boat ride on the largest lake in Spain and eat a real wood-fired rice made in the picturesque district of Palmar.
Top restaurants: Nou Racó, l'Establiment o Pasqualet.
Make the plan as you want in a group or as a couple or alone, totally personalized
2. Cabañal Seafaring Holy Week + try the typical dishes

🌊

🐟
The Seafaring Holy Week of 'poblats marítims' is an Asset of National Tourist Interest, due to its originality, its feeling and its passing from generation to generation. Live it like never before by the sea and trying the typical dishes of the season such as a good fried 'pepito', the traditional 'titaina' or cod meatballs, exclusive at Easter!
Bodega l'Aldeana, Bodega Anyora o Casa Montaña are ideal places to try these dishes.
3. Hiking routes + authentic rural 'almuerzo'

🧗🏻‍♀️

🍻
The Valencian Community is surrounded by mountains with almost infinite routes. Looking for something more rural? Dare to take a route under the Mediterranean sun: Route of the Castle, Route of hanging bridges, Route of the Peñacortada Aqueduct or Route of Chains are our favourites.
And yes, have a good lunch of those in town in places like the Pastoret de Náquera o l'Arquet .
Here you can request more information and let someone guide you, you don't have to worry about anything
4. Easter Picnic in Saler + fly a kite

🥚

🪁
There is nothing better: family, friends, a blanket and something to snack on (must: Easter sausages, panquemao and mona). El Saler beach, its green, its dunes and you in the sun. Get a cachirulo (a typical Holy Week kite) and launch it to fly with this beautiful panorama.
You can buy the best Easter products in the Central Market and the best 'monas' in the Vicente García Rutia, Sant Antonio and Forn Llatzer bakeries.
5. Getaway to the land of wine + wine tasting with local cheeses and sausages

🍷

🧀
Protected Designation of Origin, full of eco-routes through endless vineyards: this is the Utiel-Requena region. Try the Bobal variety wine, unique in the Valencia area, and pair it with a good homemade sausage from Requena.
Create your own itinerary with the help of a professional
And if you are a cheese lover… click here
6. Learn about the stories that have happened in the streets of Valencia + go up to one of its best viewpoints

🗺️

🌆
Many Valencians don't know them either: they are stories that have occurred through the winding streets of the old town of Valencia, buildings with hidden secrets and extravagant characters that have shaped the city that it is today.
Come and discover them with the help of a local guide and when you're done don't miss out on going up to see the city 360º from the Miguelete, you won't see it the same anymore!
Discover the secrets of the hand of a local guide
The legacy of the Kingdom of Valencia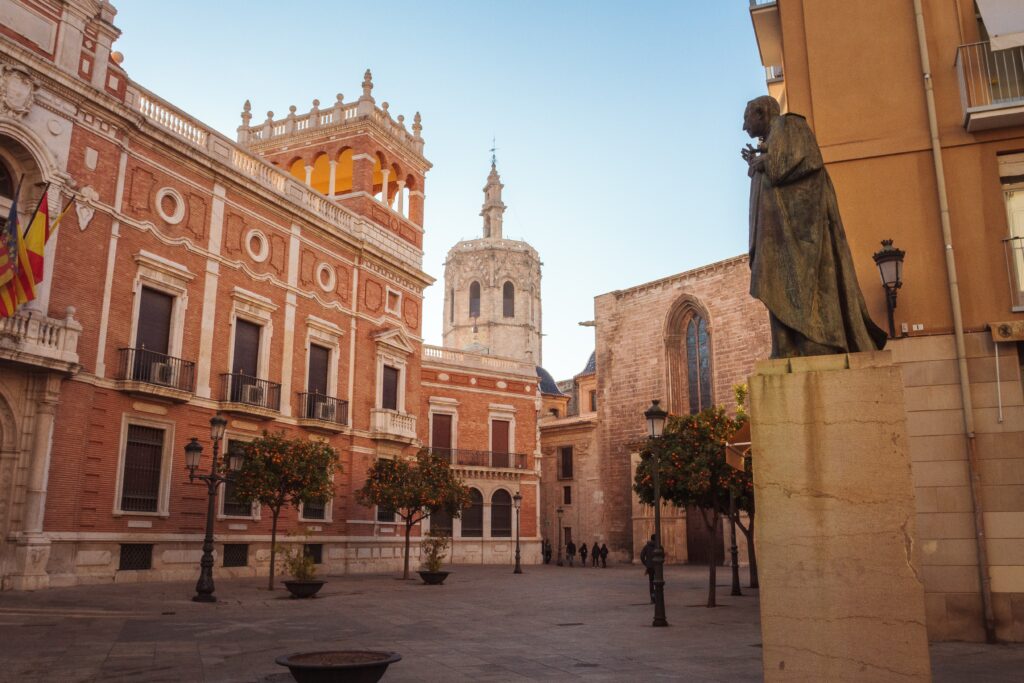 7. Fun on an XXL boat + aperitif in front of the sea

🚤

🥂
We are already in spring and the body knows it, the sun is warm and in the port of Valencia we have a huge offer of activities to have a great time (and get a little tanned)
Dare to give your body a little adrenaline by sailing the seas at full speed with the XXL boat and then breathe watching the sunset with a psicolabis.