If you are one of those who likes to eat well and learn new recipes, this is your month. Valencia is filled with gastronomic festivals with the best leisure offer of the whole year. Do not miss it!
1.-TAPAS D'ACÍ

?
Tapas, as a philosophy of life!
An event that takes place every year and that values the gastronomy of "la terreta" (as locals name the Valencian Community): More than 130 restaurants throughout the Valencian Community offer unprecedented creations in tapa format. With a closed price of €5 you can enjoy a tapa with a beer or glass of wine if you wish.
All the bars and restaurants in Valencia are involved in the event, promoting the gastronomy of the area and many have created unique tapas especially for the event.
The Best Tapa of the Valencian Community will be chosen from this great event. Do we find out what it will be?
?️From 28/04 to 14/05
Click to search your favorite bars
2.- MEAT CARNIVAL

?
Meat lover?
The biggest meat and grill festival in all of Spain arrives to Valencia. In the large area of the Old Grao Station you can find endless meat stalls, classes on how to cook it and the best advice from expert chefs. There will also be contests such as "the best tapa" or "the best steak tartare".
Dare you be the judge? Here we go!
?️From 11/05 to 14/05 and from 18/05 to 21/05
?Old Grao Station
Click to see all the programming
3.-LIVE MUSIC

?
Spring and good weather are synonymous of live music in the street. If you like to discover new groups while spending a different Saturday, we have two proposals that you cannot refuse:
The concerts of: La Pérgola & SerialParc
Two events that are repeated every weekend with the aim of promoting art and culture in the city of Turia.
Are you more into the mountains or the beach? Enjoy Serial Parc, a live music tour through the parks of Valencia and La Pérgola, music and good vibes facing the sea.
4.-CULINARY FESTIVAL

?
Mediterranean gastronomy in all its splendor. What if we are in the country that best eats and lives in the world?
If you are passionate about cooking and good food… here you will be able to see up close how nationally and internationally renowned chefs work and try their creations!
You can discover it at this festival where you can enjoy guided visits to markets, classes from great chefs, special menus, talks, tastings and gourmet experiences.
?️From 11/05 to 21/05
5.-THE ART AND ARCHITECTURE OF VALENCIA

?
There are three buildings that marked the history of Valencia and entering will leave you speechless. They are a "must", an obligatory stop in the city and we know that many of you who live here have not yet seen the 3…do you really not know them?
3 architectural jewels that are worth studying, analyzing and understanding. And more, from the hand of a local guide who will tell you the best anecdotes.
Discover why they are the icons of the city, click here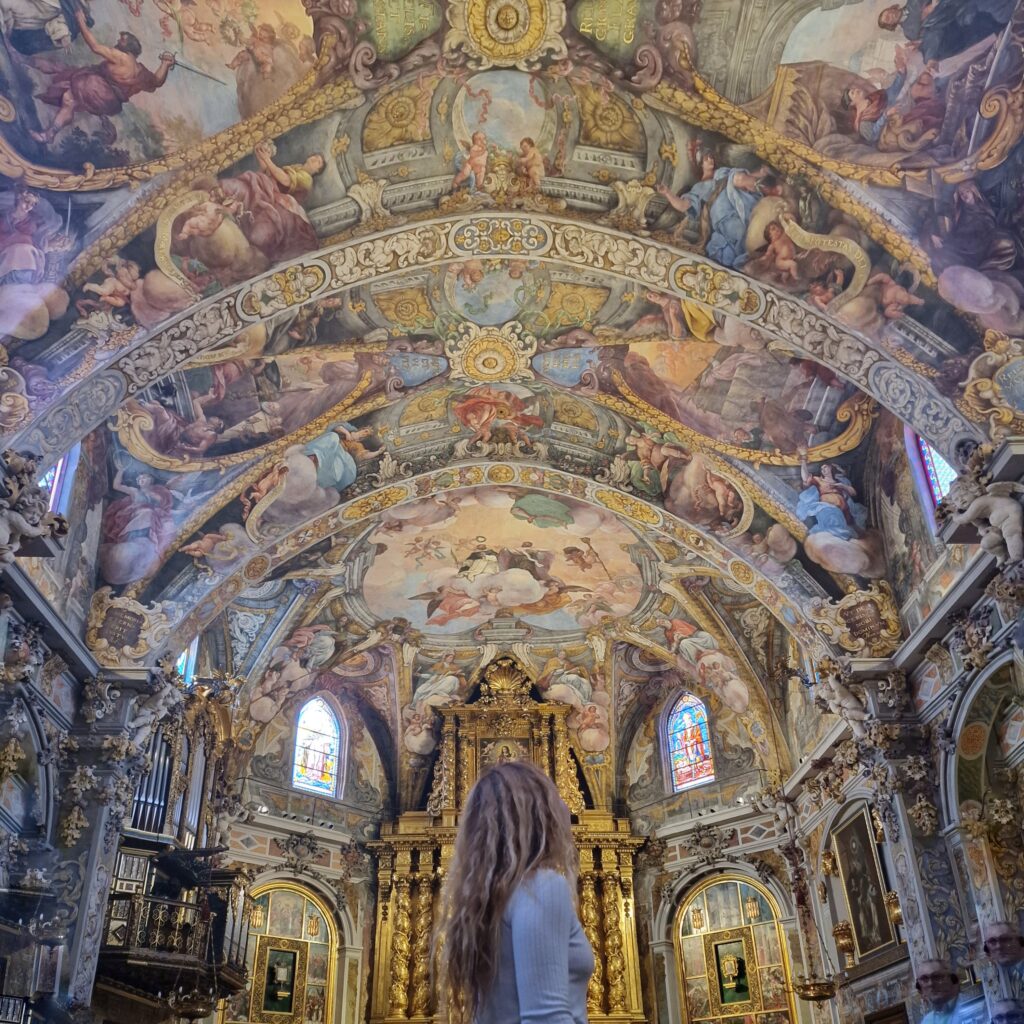 6.-MORE ART

?️
Could not miss more art. We know that gastronomy is an art, but even so, you cannot stop visiting these places to see the most impressive exhibitions of the moment. Here we leave you our favorite rooms and the exhibition that you should not miss this month:
Exhibitions in an old convent located in the heart of Valencia.
? Amor a primera tinta, Marina Puche
The most famous in the city, a building of unparalleled beauty inside and out. You can find one of the most beautiful yards in the city.
? La edad dichosa, Goya
?Orígenes, Sorolla
The Valencian Institute of Modern Art always has something to surprise you.
? La Nave 1984-1991
Palacio de las Comunicaciones
The old post office building, in the Plaza del Ayuntamiento, hosts this year one of the most important and completely unknown exhibitions in the city.
?De la foscor a la llum, Lladró
The streets of the neighborhood of Carmen
The outdoor art gallery that the Carmen neighborhood offers you is priceless. Get lost in its streets and feel the talent of Valencian artists.
Check out this reel to get all the locations of the best
7.-EXPERIENCES TO DO IN MAY

?
It is the best time to make a getaway close to Valencia.
Here are some ideas:
Discover 2 of the most beautiful villages in all of Spain
Get to know the elegance and flavor of D.O. Utiel-Requena
Do you want to surprise and create something special for your love, your family, or your partner in crime? Write us, we will help you design the idea you have in mind.
8.-WINE GOGH

?

✨
We propose you this incredible plan that has just landed in the city. In two words: wine and painting. Sounds good, doesn't it?
They will teach you how to paint Van Gogh's most famous drawings while you enjoy music and an open bar of wine. Also, with neon paint!
Click here to find out about everything